2016 Recap
The Breeders' Halter Futurity kicked off five years ago with just four classes. In its first year, the event paid out an impressive $266,000 and hosted 85 entries.
Fast-forward to 2016:
• Approximately $1.2 million in cash awards were paid out.
• Just under 600 entries walked into the pen.
• $400,000+ in prizes included trophies, belt buckles, and horse trailers.
• Payouts were made all the way to 20th place.
• Owner/breeder/exhibitor incentives of approximately $20,000 were added to the payouts.
• Daily social events fed exhibitors and spectators alike with sponsored breakfasts, lunches, and dinners.
• The debut of two brand new color breed divisions offered new ways for more breeds to win.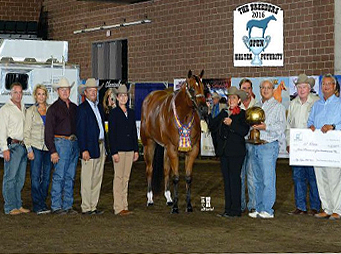 It's fair to say that the 2016 Breeders' Halter Futurity was kind of a big deal. The annual event is held in early September at the Iowa State Fairgrounds in Des Moines. This year, the futurity took place September 8-11 and once again drew top conformation talent from across the country. In 2015, the total value of the cash plusawards handed out was $1.2 million, while this year the cash payouts alone matched that sum. Read on for highlights and featured results from this exciting event. For a full listing of payouts and results, be sure to check out the Breeders' Halter Futurity website at www.breedershalterfuturity.com.
ABOUT THE PROGRAM
The Breeders' Halter Futurity springs from an innovative platform that was designed to offer incentives to stallion owners, breeders, and exhibitors alike. No matter where your interest in Halter lies, there is something in the program for everyone. There are limited slots in each division offered, which ensures that a stallion owner's investment in the program is worthwhile. Stallion owners pay an annual fee to keep stallions in the program, which makes all of their offspring eligible for entry into the annual futurity.
Since getting a foal from embryo to the show pen can be an expensive gamble, the program makes the process of entering eligible foals flexible. Some futurities may require nomination and payment of fees on a specific mare, often before a mare is even ready to breed or in foal. Then, you must nominate and pay fees on a baby that hasn't arrived yet. The Breeders' Halter Futurity only asks that an eligible foal be nominated, and the first deadline for nomination isn't until summer, usually early July. This simple nomination process is not only easy to follow, but it affords breeders the opportunity to evaluate a foal's readiness for a fall futurity before making that investment. In addition, a foal must be paid into the program with a nomination fee each year in order to enter the futurity. This system keeps the futurity extremely competitive, since breeders are able to select the best eligible get, instead of taking only eligible foals from nominated crosses.
A huge draw for exhibitors is the fact that the futurity keeps fresh horses and exhibitors coming in to compete. Horses that have placed first, second, or third in a BHF class can't come back the following year, which means you see new horses taking home the prizes every year. The payouts that extend to 20th place don't hurt either. An exhibitor could potentially take a horse to show, earn a 15th place nod in a deep pen of 30+ horses, and come home with a check that paid for their trip to the show, or more.
by Rachel Kooiker/Equine Chronicle